I'm probably the last person you would expect to find enjoying anything about the Christmas season. I'm about as atheist as you can get. Some people separate "belief" about Gods from "knowledge" or "confidence" as shown in the diagram below. According to this diagram, I am a Gnostic Atheist (aren't all Empirical Physicalists?). I believe that there is no God or Gods, and that it is possible to know this with 100% certainty (or, at least, arbitrarily close to 100% certainty).
Yet, like many  cultural North Americans, each year I find myself putting up a Christmas tree, singing traditional Christmas songs, exchanging Christmas presents, and having a drink of Christmas cheer each year as December 25th approaches.
What's with that? Am I a "traitor" to atheism?
I don't believe in Jesus Christ as the Son of God (who I also don't believe in) and the Savior of Mankind. Why would I celebrate His birthday (even taking into account that the 25th of December is likely not Jesus' birthday, if the man even existed at all, according to many scholars).
I think it boils down to a few things, and they have more to do with culture than religion.
For those raised in North America, Christmas is a season of relaxation. Schools and universities close, many businesses shut down or scale back their hours (I'm sorry for those in retail who end up working longer hours than the rest of the year), and families gather. It's a season for spending with people you know and enjoying each other's company. It's a time to sleep in, read, go to movies, eat too much, drink too much, and watch too much television. Many people find it convenient to take a tropical vacation around the season.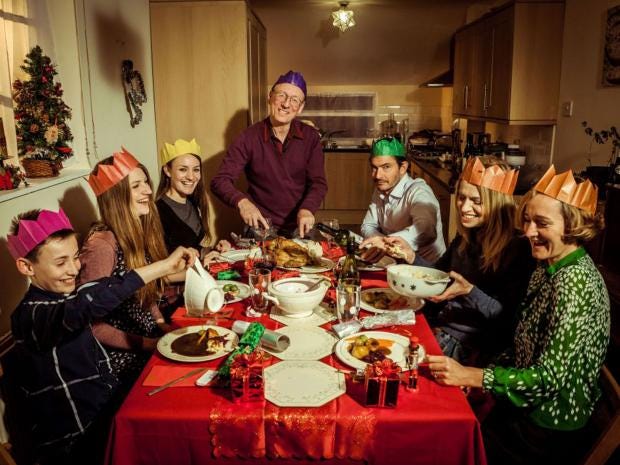 It's also a time when many of us relax our fiscal controls and indulge ourselves. We shop for things we wouldn't normally buy; we eat out more often; we stock up on special foods and drink. At the end of the Christmas season is New Year's Eve, a night that epitomizes for many the putting aside of our daily limits on spending and partying. (I hasten to point out that I have never been about the party, so these observations apply mostly to people I've known.) For most of us, relaxing those spending inhibitions feels pretty good; we feel wealthier than normal…at least until the Christmas bills reach us in January.
Besides relaxing the rules by which we normally conduct our lives, Christmas is a time of cultural affirmations, and I think that is what truly gives it enduring power. It starts with hearing the old tunes (increasingly early in the year it seems), and then the subtle and not-so-subtle hints to start shopping begin. "What are you getting the wife/husband/kids/parents for Christmas?"
Then comes the planning. Where will we spend the Holiday Season? With family? Whose family? Go on vacation? Who will cook Christmas dinner this year? Where's the office party going to be held?
Sure, there's a lot of pressure, and much of it is oriented towards a consumerism that many find distasteful. But isn't it also comforting? The assumption is that everyone in your society is going through much of the same planning, and struggling to "get through" the holiday season. Most will spend too much on presents. Most will have too many events to attend, too many conflicting demands to balance.
Christmas provides a time when much of North American society comes together in our various sub-groups. Some of those groupings are religiously oriented around celebration of the birth of Christ. We get together with co-workers or drinking buddies.  Many of us gather with the people we grew up with, family and old friends.
In the end, most will choose to spend their Christmases with the people (family or friends) they feel closest to; those who they are most like. We often choose to spend Christmas with those who affirm and confirm our cultural values, the people we best understand. We'll watch the same old shows, listen to the same old music, eat the same old food (and maybe, have the same old arguments).
These groupings give us all a chance to say, "Look! I'm alright. Here are these other people who are a lot like me. I get them and they get me." It's a wonderful feeling of no-stress cultural acceptance.
Except, for much of North American society, it's increasingly become a time of cultural tension, highlighted by the perceived "War on Christmas."
For non-believers and non-Christians, Christmas always seemed a bit of a privileged holiday. No one in North America went that crazy over the special days of other religions or, Zeus forbid, of special secular days (Darwin Day comes to mind and one has to wonder why we don't have an Einstein Day). They wanted to feel included in the celebrations, too. But North American society gave their special days little or no particular notice. Over the past few decades, some of these "outsider" groups got angry and began to demand equal time and equal treatment.
After all, whether you live in a "melting pot" or a "cultural mosaic" shouldn't a society built by immigrants from all over the world, and touting equal rights for all, be open to non-Christian special days as well? Shouldn't there be some effort to make this day of supposed universal peace and good will an open invitation to all? Isn't it about welcoming joy and sharing rather than about establishing the superiority of a particular culture or its representative religion?
Apparently inclusion was too much for Christmas to handle.
Many Christians couldn't find an acceptable way to open up their "special day" to people of other faiths (or no faith), to other cultures. Being told to say "Happy Holidays!" and "Season's Greetings!" by the secular businesses where they worked became a war cry.
Now that Donald Trump has "rescued Christmas" (can you hear the sarcasm?) making it acceptable for Christians to assert their cultural inheritance and reinforce the righteousness of their beliefs in the echo chamber of cultural dominance, the danger is that other cultural groups will begin to sense their isolation and rejection by the majority once again.
Cultural homogeneity is a wonderful thing. A single belief system, a single set of traditions, all backed by a single language make living in society easy. But, just like any other eco-system, human society thrives most when it is most diverse. Resilience and hardiness are properties of hybrids, not of pure-breds.
You do not encourage a society that is capable of dealing with myriad unpredictable problems and issues by erasing variation within. If we can learn anything by watching how successful species survive the whims of nature, it is to cherish the pools of variation that allow for the evolution of new approaches under environmental changes.
Take comfort in the familiar, but don't take refuge. Visit the places and the people you know well, but don't live there. Gain strength from what you already know, but don't be limited to just that. A beautiful house that you never leave is still a prison even if it has no bars.
But what about love?
Jesus said, "Love thy neighbor" (actually, that comes second, after loving God) but thousands of years of history have shown us Jesus was wrong. He should have said, "Love thy neighbor. But if you don't or can't, at least create a society with public policy that appears as if you do."
The country I live in (Ecuador) has a tiny, often inadequate government-funded blood bank. When I lived in Canada, one of the things I took for granted was the Red Cross Blood Bank, which is almost always well stocked from the regular, voluntary contributions of total strangers. That is not part of the Ecuadorian culture. But caring for friends, family, and neighbors is a strong part of Ecuador.
Last year, as many of you know, I had a serious, life-threatening heart attack just before Christmas and required a triple bypass. The surgery needed seventeen units of blood, and there was no available supply. Family and friends put out an emergency call for blood. I was lucky to be the recipient of an enormous outpouring of community love from both expats and Cuencanos.
The overwhelming community response netted more than twice the needed blood (the excess was donated to others in need of transfusions). I consider myself one of the luckiest people alive today to have been on the receiving end of what is still perceived as a minor miracle in the local Red Cross blood bank. I've never seen such an incredible demonstration of love and support for one person's life and I will be forever grateful.
At the same time, I'll be forever resentful that this society is set up in such a way that an extraordinary display of affection was required just for me to be able to have life-saving surgery. Wouldn't it be better to structure the systems not to need such an incredible effort? Wouldn't it be better if the love and support was built into society? Wouldn't it be better to know that your society values each individual so much that it always ensures an adequate blood supply, should you need it?
Some may see this as "institutionalizing" caring, the much-hated "welfare daddy" state. I think this is as wrong-headed as can be. We can say that individuals in our society should rise to these challenges and "show the love" when needed, but I think this simply legitimises our failure and institutionalises a lack of caring.
For some incomprehensible reason, many in the US and Canada support individual acts of philanthropy at the same time as they decry establishing public policy in the state that shows that same kind of giving.
We honor donations to charity, but resent government unemployment insurance and welfare. We show great respect when a surgeon or hospital gives freely of their time and services to help the desperately ill, but abhor state-sponsored, single-payer health care (the evil "socialized medicine").
Does this make any sense?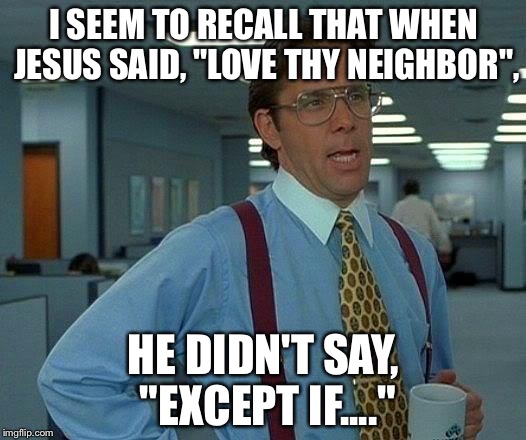 Jesus said, "Love thy neighbor" and we are happy when individuals rise above the normal day-to-day grubbing for a living to demonstrate this exalted affection. Yet, when people propose enshrining this very "love" into governmental policy, we protest that the needy will somehow be weakened by it, come to rely on the love.
Even Jesus couldn't make you love someone. We've tried that approach for over two thousand years with little success. Only when wise leaders have enshrined Jesus' words into actual government policy, have societies advanced as a whole.
Today, the most enlightened societies provide social safety nets and government assistance for those who would otherwise face personal disaster alone. Rather than relying on individuals to "feel the love" when it is needed, don't you think it would be better to structure our societies as if they were loving all the time? As if that love extended to all members of the society instead of only those we feel are worthy of our love, those who are most like us, those who share our homogeneous culture?
There is little doubt that human society will be facing many interesting challenges over the next few years. Those challenges may require us to "show the love" in cases where we just don't feel it, and to love those we don't feel deserve it (perhaps even our enemies).
On this Christmas, I encourage all to think about our community, our society. Is it inclusive, welcoming, resilient, loving? Or is it special and brittle, requiring delicate care and constant protection from outside philosophies and traditions? Have we set up an unloving society which then relies on individuals to "rise above" the structures and policies we have created?
I won't tell you to love your neighbor. Of all the things in the world that one could prescribe, telling someone how they should feel has to be among the most useless. Besides, you already know that I believe Love Isn't All You Need. Instead, I will ask you to think about creating a society in which your neighbor feels loved, valued, and respected. I think that's something we can all do.
Which do you think is better? Do you value individual love more than policy love? Why? Does policy love weaken society? How? Join the conversation.
Until next time, I wish all societies everywhere the wisdom to create public policies of peace, love, and support. – Paul
Comments
comments