New York Times best-selling author, Andra Watkins ("Not Without My Father", "To Live Forever", "Hard to Die") has inspired me. For the last week or two, she's been on a rant over The Paradise Papers.
The 1.4Tb (1.4 Terrabytes – 1.4 trillion bytes, or 1,400 Gb) of data included in 13.4 million files of the Paradise Papers (second only to the 2.6Tb of data in the Panama Papers of 2016) expose the global environments in which tax abuses thrive. They demonstrate the complex, artificial ways the richest global corporations and individuals legally protect their wealth from their formal countries of residence.
The material was obtained by the German newspaper Süddeutsche Zeitung from two offshore service providers and the company registries of 19 tax havens. It was shared to the International Consortium of Investigative Journalists with partners including the Guardian, the BBC and the New York Times.
Some of the revelations are considered shocking while others appear to be "business as normal" or, at least "business as per the new normal." While the information released so far hasn't pointed to any illegal activities, it highlights the fascinating extent to which the wealthiest 1% will go to hide their income and investments from the rest of us.
Among the revealed data, the British newspaper, The Guardian, tells of:
Extensive offshore dealings by Donald Trump's cabinet members, advisers and donors, including substantial payments from a firm co-owned by Vladimir Putin's son-in-law to the shipping group of the US commerce secretary, Wilbur Ross.
Millions of pounds from the private estate of England's Queen Elizabeth has been invested in a Cayman Islands fund– and some of her money went to a retailer accused of exploiting poor families and vulnerable people.
How Twitter and Facebook received hundreds of millions of dollars in investments that can be traced back to Russian state financial institutions.
Aggressive tax avoidance by multinational corporations, including Nike and Apple.
How some of the biggest names in the film and TV industries protect their wealth with an array of offshore schemes.
The billions in tax refunds by the Isle of Man and Malta to the owners of private jets and luxury yachts.
All of this is perfectly legal. Tax avoidance (not evasion) is a perfectly acceptable global practice. Moving your after-tax dollars into an offshore country is also perfectly acceptable, providing you continue to declare the foreign income in your country of residence (for citizens of the USA and Eritrea, you must declare that income even if you don't actually reside in your native country).
Of course, if the money is offshore, it could be very hard for your government to prove you have it or to prove how much income you made from it (this is why the USA started FATCA reporting regulations to force other countries to report the money American citizens earned abroad through their investments). If you don't report to your resident country, your legal tax avoidance could slip into illegal tax evasion.
For large, global corporations like Apple this kind of scheme is a completely legal way to shift income into lower tax-rate regimes.
For wealthy individuals, it might seem unfair that they can find ways to get around paying taxes, but the rest of us are already used to the inequality between the 1% and the less rich masses. But, like the Panama Papers before them, the Paradise Papers have increased public awareness of the privileges of the wealthy. That public awareness is fueling a resentment that many see as justified.
Apart from Ms. Watkins' prodding at the inequities outlined in The Paradise Papers, this article arose from some discussions with our Cuenca neighbor's teenage daughter. She is a bright young woman, conversational in three languages, and currently studying to attend university in the States. One of her tutors gave her a homework assignment centered on an article entitled "Who Pays What in Taxes" by economist Walter E. Williams of the website LewRockwell.com.
Dr. Williams asks the very reasonable question: Are the rich paying their fair share of taxes in the United States of America?
He quotes some interesting statistics that, by themselves, suggest America's wealthy pay far more than their fair share of taxes. "The top 1 percent of income earners, those having an adjusted annual gross income of $480,930 or higher, pay about 39 percent of federal income taxes."
That sounds terrible and if I were in that top 1%, I'd probably feel ripped off. Now one might think, as the John M. Olin distinguished professor of economics at George Mason University, Dr. Williams' statistics would be infallible. Indeed, I have no cause to question the numbers he reports.
But Mark Twain famously said "There are three kinds of lies: lies, damned lies, and statistics." (Twain attributed this quote to British Prime Minister Benjamin Disraeli, though others likely stated it first.) One would think an economist like Dr. Williams would know not to quote figures out of context.
So is the 39% of taxes paid by the wealthiest 1% of Americans unfair? Well, according to CNN, in September of 2017 the richest 1% of families controlled a record-high 38.6% of the country's wealth in 2016, while the bottom 90% of families hold just 22.8%. As the image to the left shows, if U.S. land mass were divided like wealth, the poorest 90% would only own, in total, a part of the southern-most states. The richest 10% would own the vast majority of the country, about 70% of it.
By comparison to their total wealth, the richest 1% pay their fair portion of taxes. But they're supposed to be income taxes, right? Not wealth taxes. So, how do the incomes of the top earners compare to those of the rest of us?
According to recent research by Thomas Piketty, professor of economics at the Paris School of Economics, in 1962 the top 1% of earners earned about 13% of all U.S. income, while the bottom 50% earned about 19% of all income. By2014, these numbers had completely reversed, with the top 1% earning more than the bottom 50% combined.
Whereas the difference between incomes for mid-level earners and the top 5% was only about $120k per year in 1967 (adjusted for inflation), by 2016 the difference had grown to over $300k per year. Undoubtedly, the rich have been getting richer, faster. And this article (and the graph below) shows incomes of the 1% of the 1% have grown the fastest of all.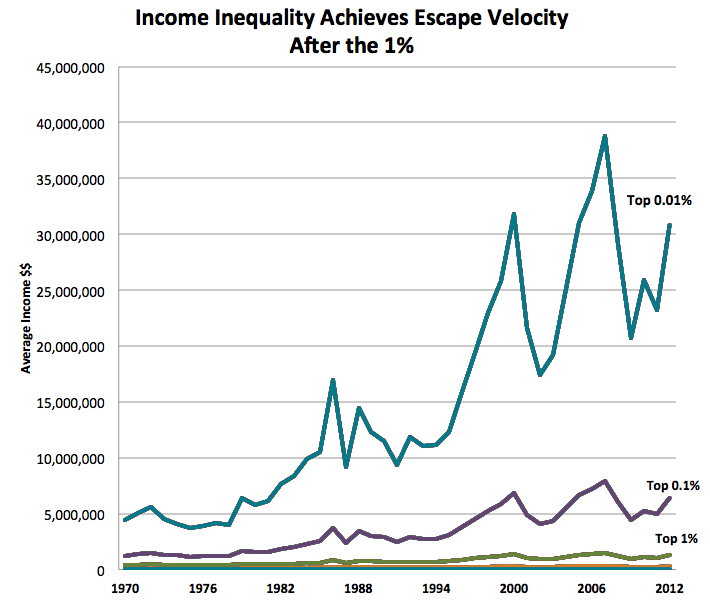 But that still means the richest 1% (with 20% of all income nation-wide) pay 39% of all taxes. Is that fair? Or should we increase taxes on middle-income earners while giving the rich a break?
Let's do some simple math. Say that middle-income earners make about $50,000 per year while the top 5% make about $300,000 per year (that was about right in 2014). Let's say the middle earners are taxed at 20% while the top 5% are taxed at 40%. That means middle earner take home $40,000 per year while the top 5% take home $180,000.
Now let's give both groups the same 30% tax rate. Middle earners will now take home only $35,000 per year (a drop of $5,000 in their annual income), while the top 5% get to keep $210,000 per year (an increase of $30,000). Who do you think will be most affected by this change?
Does someone taking home $180,000 per year really need the extra $30,000? Will someone taking home only $40,000 per year be proportionally more hurt by losing $5,000 of their net income? If we are looking to be fair, to create a society that works best for the majority of its members, what's the best thing to do?
In my opinion, it is income and wealth inequality that is the real failure of modern society. I don't care where the wealthy invest their money or how they legally minimize the taxes they have to pay (though in all honesty, the wealthy and powerful have primarily set the definitions of what is legal in much of the world-no surprise the laws provide numerous loopholes for them to take advantage of).
What I do care about is a system (economics and finance), that is an artificial human contrivance, that benefits only a small portion of humanity at the expense of the vast majority. Regular readers of this blog know that I'm all about systems and not at all about blame.
We have made (or allowed to be made) systems that simply don't work well for the vast majority of us. I, for one, think we can do better.
What do you think? Have I missed the whole point? Should I be more outraged by the findings of the Paradise Papers? Is there any hope for the 90%? Can we design a better way of distributing the resources of society and the planet without hurting ourselves?
Add your thoughts in the comments below. Share on social media and let's keep the conversation going.
Thanks. Until next time – Paul
Facebook comments (scroll past for non-FB comments)
comments